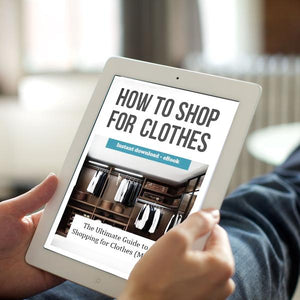 How To Shop For Clothes For Men (eBook)
Regular price
$49.89
Sale price
$9.89
---
We asked 1000+ guys like you "

What's your #1 single most fashion challenge right now?

*

" and 90% of them answered they don't know How to Shop for Clothes. 
 
We're not surprised.
 
You see, buying clothes is a lot more complex than just walking into a store.
 
And this is because most guys aren't working with a million dollar budget.
 
You can only buy a few items at a time, and if you don't know what you're doing, you'll be broke and stuck with ugly, ill-fitting clothes that don't suit you.
 
Not only that you will have wasted hours walking around the mall.
 
This is why it's vital that you learn how to shop for clothes.
 
And to help you do this we've written How to shop for clothes for men eBook.
 
With this guide, you'll save time and money and build a wardrobe you can be proud of.
This is the only guide you'll ever need to learn how to shop for clothes. This guide can help you save thousands of dollars and help you build a wardrobe that'll serve you for life. 
HAVE YOU EVER THOUGHT TO YOURSELF...
"I have a lot of clothes but when I look in my closet I can't find anything to wear"
"I get confused while shopping. I've already got many clothes but while wearing I keep on changing one to another."
"I don't have the capability of buying my own clothes. I just have the clothes that my girlfriend or wife bought me"
"Tired of my outdated wardrobe and looking for clothes that look good on me"
"I want to improve my dressing sense but I need help as I don't have enough knowledge on it"
" I feel like people around me don't take me seriously because of the way I dress."
If so, you've come to the right place.
Unsure about the most effective ways to build your wardrobe?
Confused about the conflicting fashion advice you've read?
Looking for proven wardrobe building guidance that actually, works?
This guide can HELP.!
Here's what's included in this guide 
1. Introduction: Learn why it's important to know the art of shopping. 
2. Your skin tone and clothes: How to shop clothes that compliment your skin tone
3. Your body type & clothes: How to shop clothes that fit well and help you look in shape. 
4. Your profession & clothes: We cover all major profession types and give you exact tips on how to dress appropriately for each.   
5. Occasions & clothes: We give you a detailed breakdown for how to dress for various occasions.  
6. New trends: This section will cover all the new trends you need to know about to look sharp. 
7. How to declutter your wardrobe 
8. How To Manage Your Wardrobe
9. Your Minimal Wardrobe
10. Your ideal wardrobe: This section will cover everything you need to have in your wardrobe with pictures and other guidelines. 
11. Your Summer Wardrobe
12. Wardrobe planner 
13. Fashion Bloggers You Should Follow. 
Phew.. so this what you'll get when you purchase this eBook. 
Refund? 
Yes, if you absolutely don't like the guide, we'll give you a 100% REFUND within 14 days of your purchase. 
Questions? 
Do you have any questions about this guide? feel free to email us at info@lifestylebyps.com and our style expert will be more than happy to help. 
CLICK THE BUTTON BELOW FOR QUICK CHECKOUT
Yes! I Want This